The National Weather Service in the Quad Cities has issued the first spring flood outlook and is calling for above to well above average risk for flooding in the coming months.
In the last several weeks we have already experienced flooding due in part to ice jams and heavy rainfall. That threat looks to continue for the next few weeks as another round of cold temperatures begins to move in by the upcoming weekend.
A substantial amount of snowfall still remains on the ground to our north where as much as four inches of liquid water is contained in the snow pack as shown in the map below.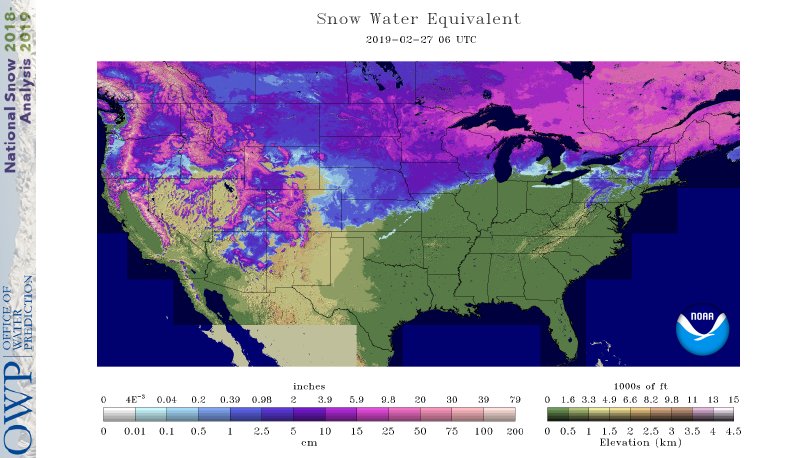 Why the concern? A few things including:
1) Accumulated rainfall since November 2018 has been 125% to 150% of normal leaving our soils completely saturated before the ground even froze.
2)Our accumulated snowfall has been 300% of normal, with near record snowfall expected by the end of the season as a whole.
Rainfall has averaged above-normal since November. Here are the stats:
November: +0.47″
December: +0.77″
January: +1.47″
February: +1.20″
What will be critical as to how severe the spring flooding will be continues to depend on the rate at which we melt the current snow pack in place and how much rain we receive this spring. Should we experience a rapid warm up followed by heavy rains in the coming weeks, the flood threat will increase substantially.
The risk for ice jams will remain quite high, especially along the Rock River through at least the first few weeks of March as much colder air settles in.  The Rock River is also already running high at elevated levels thanks to recent heavy rains.
BOTTOM LINE: If you live along any of our area rivers, you'll want to keep close tabs on the river stage forecast and be prepared for rapid fluctuations in levels due to ice action.